Welcome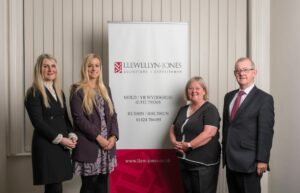 LLEWELLYN JONES ANNOUNCEMENT/NEWS
We are delighted to make the following announcement;
Our Miss Chloe Roberts, who began working as secretary whilst undertaking her LPC in 2017, has been appointed as a Director of Llewellyn Jones Ltd. Her promotion is testament to her hard work, loyalty, and commitment to our firm, we are privileged to welcome her into a management role.
Further News;
Having joined originally Llewellyn Jones and Armon Ellis in 1977 Mr Dion Williams has made the decision to step down from his role as Director. He will remain as a Consultant to the firm, working three days a week.
Miss Delyth Williams, who joined the firm in 1989, will also be taking a step back however she will currently remain as a part time Director at Ruthin office on reduced hours, three days a week.
Our Mrs Colette Fletcher who joined the firm as a trainee in 1998 becoming junior partner in 2004 has been appointed Managing Director and has overall supervision for the firm, and comments;
'We congratulate Chloe upon her appointment, she is a huge asset to our management team, we are extremely proud of her fast-tracked development, her promotion is announced on what is the anniversary of her Qualification only 3 years ago. We are also celebrating the 46 years of service that Dion has given to Llewellyn Jones in Mold and the 34 years of service his sister Delyth has given to Llewellyn Jones in Ruthin, after 4 decades practising in the legal profession both have seen many changes over the years and have successfully developed our firm to respond to all challenges, remain current and competitive in the changing market and have maintained our highly regarded local reputation and our strong and loyal client base in Mold and Ruthin areas respectively.
We will continue to work together collaboratively with all of our team here at Llewellyn- Jones to ensure a smooth transition and to carry on providing our high-quality service tailored to meet the individual needs of our loyal client base which is the lynchpin of everything we do and seek to achieve'.
We have recently been made aware of several scam emails asking for money which appear to come from Llewellyn Jones email accounts – we ask that you do not reply to these emails and delete them straight away. If you are unsure whether the email is legitimate or a scam please call us to double check
We continue to be aware of UK Government and Public Health Wales Covid advice and will adjust our procedures in line with any updated advice.
Our offices are open Monday to Friday 9am until 1pm and 2pm until 5pm.
Llewellyn-Jones is a long established legal practice with offices in the North Wales market towns of Mold, Flintshire and Ruthin, Denbighshire.
Please view our Mold or Ruthin contact pages for opening hours and contact numbers or please use the form below to send an enquiry:
Whilst hoping that you find our site informative, we would invite you to contact us to discuss your specific situation and requirements either by our email enquiry form within this site or by telephoning us on:
Mold Office – 01352 755305
Ruthin Office – 01824 704495
email Mold: post@llew-jones.co.uk
email Ruthin: post@llew-jonesrhuthun.co.uk
You will find  Costs and Service Information for residential conveyancing, probate (uncontested) and motoring (summary only)  under the main Services heading.
Visitors to our site will no doubt appreciate that it is not possible to publish a binding quote for every scenario and a discussion about your individual circumstances may reveal that the price is higher or lower.  We will continue to provide written quotation for costs and disbursements once full information is known.
For new enquiries, please use our Quick Contact form
Website Privacy Notice May 2018
Any data that you submit using any contact us enquiry form, on any page on this website,  will be held by Llewellyn-Jones as Data Controller and will be held securely and in accordance with the General Data Protection Regulations/the Data Protection Act 2018 for 6/12 months before being securely and confidentially destroyed.
Your data will not be disclosed to any third parties without your consent or as otherwise allowed by the relevant Data Protection legislation and will only be used for responding to your query (or purposes associated with that purpose).
You have the right to be informed about what data we hold about you along with other rights set out in the legislation.  Further information about your rights under the data protection legislation can be found at www.ico.org.uk
Quick Contact
Please fill in the form below and we will get back to you as soon as we can.